Krilni radijalni valjci i sklopovi kaveza serije K
Pojedinosti o proizvodu
Parametri
Povratne informacije sada




K Series-Radial needle roller and cage assemblies is a separated unit with high load capacity and high rigid design, widely used in the elements which has limitation in the radial size. Every needle is precisely guided and keep stable by the cage , so result to a better high speed performance.
ime proizvoda:

Radial needle roller and cage assemblies

Struktura:

K

Single row radial needle roller and cage assemblies

KK

Double row radial needle roller and cage assemblies

KS

Split type radial needle roller and cage assemblies

KKS

Split type double row radial needle roller and cage assemblies

KZK

Radial needle roller and cage assemblies for connecting rod crank pin

KBK

Radial needle roller and cage assemblies for connecting rod piston pin
Savjeti: Za više parametara veličine proizvoda idite na polje parametara


The cage is generally made of 20# steel, 15CrMo, 20CrMo and reinforced nylon, the needle roller is made of bearing steel. The steel cage has enough strength and wear resistance after quenching. The maximum operating temperature of nylon cage is generally 120 ℃, i 180 ℃ is allowed for short-term operation.
We can also provide cages with special surface treatment, such as copper plating, silver plating, phosphating and blackening.

The radial needle roller and cage assemblies can be used as support and connecting rod bearing under high radial acceleration operation. They are applied in automobile starter, gearbox, motocikli, vrtni strojevi, sewing machines, robot RV reducers and outboard engines.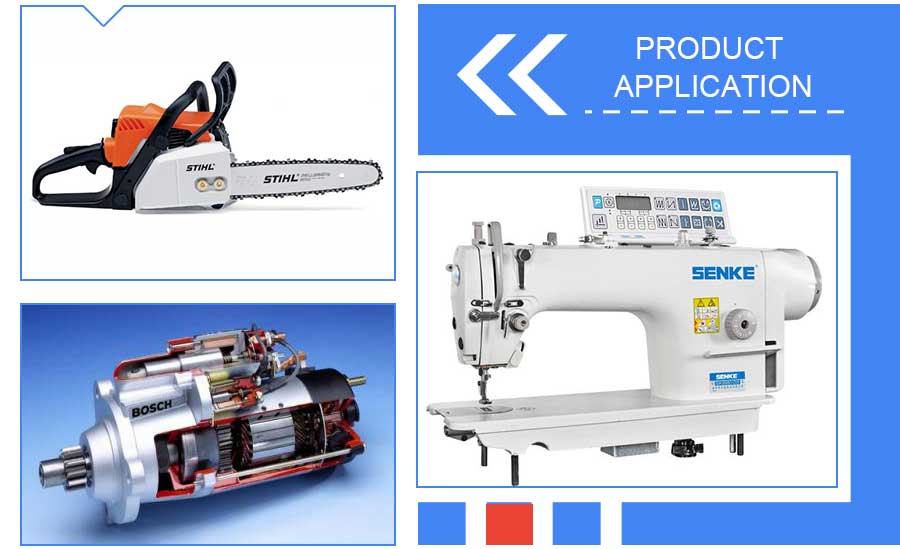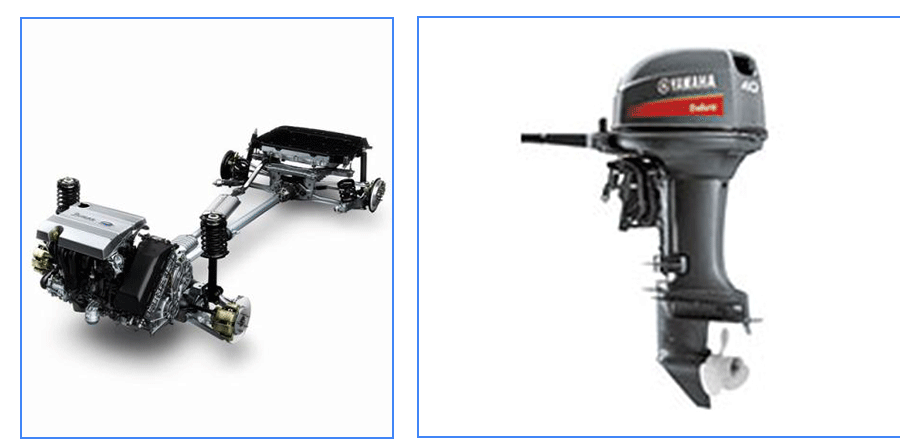 Visoka kvaliteta:

Naša tvrtka sada pokriva površinu od 25000 m², sa biljnom površinom od 23000m² i 136 zaposlenici, uključujući 12 tehničari.

Počinjemo surađivati ​​s Koyo iz 2014 i možemo proizvoditi visokokvalitetne ležajeve s japanskim tehnologijama, koji mogu zamijeniti tajvanske ležajeve. Naša tvrtka je prošla IATF16949:2016 certificiranje.

Imamo više od 120 proizvodne opreme, uključujući 21 strojevi za mljevenje, 35 strojevi za probijanje, 20 metarske tokarilice, 13 hidraulički tokarski strojevi, 15 automatski strojevi za ugradnju igle, itd.

Također imamo dovoljno opreme za testiranje proizvoda,kao što su ispitivači tvrdoće Vikers i Rockwell, metar zaobljenosti, separatori duljine i promjera.

Naša prednost i usluga:

① Bavili smo se igličastim ležajevima više od 20 godine.

② Surađujemo s Koyoom, možemo proizvesti visokokvalitetne ležajeve s japanskim tehnologijama.

③ Pratimo "Prvo kvaliteta, Prvo usluga" kako bi svi naši kupci bili zadovoljni.

④ Pružit ćemo precizniju i učinkovitiju proizvodnju i posluživanje prema nacrtima klijenata.

⑤ Nasumični pregled tijekom obrade.

⑥ Napravite 100% pregled prije otpreme.

Naši proizvodi su izvezeni u SAD, UK, Njemačka, Indija, Koreja, Tajvan i druge zemlje i područja. U 2019, obim prodaje je 7.5 milijuna američkih dolara, od čega oko 1.5 milijuna američkih dolara izravno se izvozi u Njemačku, UK, SAD, itd.Kako bi pronašli nove kupce, svake godine odlazimo u inozemstvo kako bismo prisustvovali raznim izložbama, poput Hannoverskog Messea, Japan M-tech, Automechanika Frankfurt, itd.

Q1: Zašto biramo vašu tvrtku?

A: Uvijek inzistiramo na kvaliteti na prvom mjestu. Imamo svoju tvornicu ležajeva, stoga imamo prednost u kontroli kvalitete i cijeni.

Q2:Koje je vrijeme isporuke?

A: Većinu ležajeva imamo na zalihama, možemo dogovoriti dostavu unutar 10 dana. Za ležajeve koje nikada nismo proizveli, trebamo 30-40 dana.

Q3: Koji je vaš rok plaćanja?

A: Naš rok plaćanja je 30% T/T unaprijed i stanje na B/L.

Q4: Možete li prvo poslati uzorke ležajeva?

A: Uzorke ležajeva možemo poslati besplatno, ali vi ste zaduženi za transport.
China K Series Bearing

,

China Needle Cage Manufacturers

,

Roller Cage Bearing Factory

,

Chinese Bearing
Effective Stability and Alignment of Machine with Needle and Roller Bearing
Our range of needle roller and cage assemblies provide excellent thrust capacity. Changzhou Top Bearing Co. doo. has produced high quality bearing of different size for various applications. These are widely used in machines for better stability and efficient performance. The Valjkasti ležaj support the axial load and has high load carrying capacity. All our bearings are designed with advanced technology and tested for the strength. The use of the Ležaj helps in reducing the size as well as weight of machines. The Kavez s iglom is compact and of versatile size. These are powerful units for holding machine components together and prevent misalignment.
Vratilo
Oznaka ležaja
Granične dimenzije
Osnovna ocjena opterećenja
Ograničavanje brzine

Diameter

Current Model

Izvorni kod
Fw

Ew

Bc

Cr Dynamic

Cor Static

Ulje
mm
mm
N
o/min
5

K5×8×8

29241/5
5
8
8
2300
1880
37000

K5×8×10

39241/5
5
8
10
2800
2450
37000
6

K6×9×8

29241/6
6
9
8
2560
2240
35000

K6×9×10

39241/6
6
9
10
3300
3100
35000

K6×10×13

49241/6
6
10
13
3500
2800
33000
7

K7×10×8

29241/7
7
10
8
2750
2550
32000

K7×10×10

39241/7
7
10
10
3350
3400
32000
8

K8×11×8

29241/8
8
11
8
3000
2900
30000

K8×11×10

39241/8
8
11
10
3830
3950
30000

K8×11×11

8
11
11
3830
3950
30000

K8×12×10

29242/8
8
12
10
4900
4600
30000
9

K9×12×10

39241/9
9
12
10
4200
4700
30000

K9×12×13

49241/9
9
12
13
5500
6700
30000
10

K10×13×10

39241/10
10
13
10
4500
5250
27000

K10×13×13

39241/10
10
13
13
6000
7600
27000

K10×13×16

10
13
16
6300
7800
27000

K10×14×10

29242/10
10
14
10
7000
7900
27000

K10×14×13

39242/10
10
14
13
8000
9100
26000

K10×16×12

19244/10
10
16
12
7000
9300
27000
12

K12×15×9

12
15
9
4120
5210
25000

K12×15×10

39241/12
12
15
10
4320
5730
25000

K12×15×13

49241/12
12
15
13
6000
8100
25000

K12×16×8

19242/12
12
16
8
4200
4700
25000

K12×16×10

29242/12
12
16
10
6000
6900
25000

K12×16×13

39242/12
12
16
13
7900
9200
25000

K12×17×13

59242/12
12
17
13
9300
10000
24000

K12×18×12

19244/12
12
18
12
9800
8000
24000

K12×15×20

K12×15×20

12
15
20
8200
12000
25000
14

K14×18×17

59241/14
14
18
17
10500
13900
23000

K14×20×12

19243/14
14
20
12
9900
10500
22000
15

K15×19×17

59241/15
15
19
17
8300
9800
22000

K15×20×10

19242/15
15
20
10
9700
11000
22000
16

K16×22×12

19243/16
16
22
12
11000
12000
21000

K16×22×16

16
22
16
14300
17000
21000
17

K17X21X10

29241/17
17
21
10
7900
10100
21000

K17X21X13

39241/17
17
21
13
10000
14100
21000

K17X21X17

59241/17
17
21
17
12000
17400
21000

K17X23X14

29243/17
17
23
14
11000
15000
21000
18

K18X22X10

29241/18
18
22
10
8200
9900
20000

K18X22X13

39241/18
18
22
13
9000
12100
20000

K18X22X17

59241/18
18
22
17
11900
17600
20000

K18X24X12

19243/18
18
24
12
11200
12900
20000

K18X24X13

18
24
13
12900
14900
20000

K18X24X13.5

18
24
13.5
12900
14900
20000

K18X24X20

49243/18
18
24
20
20000
26500
20000

K18X25X14

18
25
14
16500
18800
20000

K18X25X22

18
25
22
22900
28400
20000

K18X26X14

18
26
14
18000
20000
18000

K18X28X16

19244/18
18
28
16
19000
18400
19000
19

K19X23X13

19
23
13
9300
13000
20000

K19X23X17

19
23
17
12000
18600
20000
20

K20X24X10

29241/20
20
24
10
8700
12100
19000

K20X24X12

20
24
12
9600
13800
19000

K20X24X13

39241/20
20
24
13
9600
13800
19000

K20X24X17

59241/20
20
24
17
12400
20000
19000

K20X26X12

19243/20
20
26
12
13100
15700
19000

K20X26X16

K9249/20

20
26
16
18000
25000
18500

K20X26X17

39243/20
20
26
17
18700
25500
19000

K20X26X20

49243/20
20
26
20
20600
28500
19000

K20X28X20

19245/20
20
28
20
23400
28000
18000

K20X28X25

29245/20
20
28
25
30000
28500
18000

K20X30X30

39245/20
20
30
30
35000
41000
18000
21

K21X25X13

21
25
13
9600
14500
19000

K21X25X17

21
25
17
12800
21000
19000
22

K22X26X10

29241/22
22
26
10
8700
12900
18000

K22X26X13

39241/22
22
26
13
10000
15400
18000

K22X26X17

59241/22
22
26
17
13100
22100
18000

K22X27X13

29242/22
22
27
13
14000
23000
18000

K22X28X17

39243/22
22
28
17
19000
26500
18000

K22X28X23

59243/22
22
28
23
20000
27000
19000

K22X29X16

19244/22
22
29
16
19500
25000
17000

K22X30X15TN

22
30
15
19600
22900
17000

K22X30X20

19245/22
22
30
20
21000
23500
18900

K22X32X24

22
32
24
33500
39500
16000
23

K23X35X16TN

23
35
16
24000
23400
15000
24

K24X28X10

24
28
10
9400
14300
17000

K24X28X13

24
28
13
10500
17000
17000

K24X28X17

9243/24
24
28
17
14000
24500
17000

K24X29X13

24
29
13
13100
19100
16000

K24X30X17

24
30
17
19000
27000
16000

K24X30X31

24
30
31
27000
43000
16000
25

K25X29X10

29241/25
25
29
10
9700
14900
16000

K25X29X13

39241/25
25
29
13
10800
17900
16000

K25X29X17

59241/25
25
29
17
14500
25500
16000

K25X30X13

29242/25
25
30
13
14100
21300
16000

K25X30X20

59242/25
25
30
20
21100
28000
16000

K25X30X25

25
30
25
21700
40400
15000

K25X30X26

52.436
25
30
26
20100
26500
15000

K25X31X17

39243/25
25
31
17
19000
28000
16000

K25X31X21

39243/25
25
31
21
24100
37500
16000

K25X32X16

19244/25
25
32
16
20500
27500
15000

K25X33X20

19245/25
25
33
20
28000
37500
15000

K25X33X24

29245/25
25
33
24
33900
46500
15000

K25X34X18

25
34
18
48000
67000
15000

K25X35X30

39245/25
25
35
30
46500
61500
14000

K25X30X26 ZW

25
30
26
21000
35000
14000

K26X30X17

26
30
17
14700
27000
16000

K27X32X17

27
32
17
16000
34000
17000

K28X33X13

29241/26
28
33
13
14800
23600
14000

K28X33X17

49241/28
28
33
17
19100
33000
14000

K28X34X17

39242/28
28
34
17
21300
35000
14000

K28X35X20

29243/28
28
35
20
24000
34000
14000

K30X35X17

49241/30
30
35
17
19100
33500
13000

K30X35X27

19241/30
30
35
27
30000
58500
13000

K30X38X25

29244/30
30
38
25
16000
39000
13000

K30X40X30

49243/30
30
40
30
48500
68500
13000

K32X37X13

29241/32
32
37
13
15000
25000
12000

K32X38X20

49242/32
32
38
20
26000
44500
12000

K32X39X16

19243/32
32
39
16
23500
35000
12000

K32X40X20

19244/32
32
40
20
37000
40500
12000

K35X40X17

49241/35
35
40
17
20300
38000
11000

K35X40X27

79241/35
35
40
27
27800
62100
11000

K35X42X16

19243/35
35
42
16
23900
37000
11000

K35X42X30

49243/35
35
42
30
38500
67500
11000

K35X45X30

29245/35
35
45
30
52500
78500
10000

K35X42X20ZW

29243/35
35
42
20
29500
48500
11000

K38X43X27

79241/38
38
43
27
31000
67500
10000

K38X46X20

19244/38
38
46
20
35000
56500
10000

K40X45X17

49241/40
40
45
17
20900
41000
10000

K40X45X27

19241/40
40
45
27
32500
72500
10000

K40X48X20

19244/40
40
48
20
35500
58500
9000

K42X47X13

29241/42
42
47
13
17300
33000
9000

K42X47X27

79241/42
42
47
27
33000
74500
9000

K42X50X50

19244/42
42
50
20
34500
56500
9000

K45X50X17

49241/45
45
50
17
22000
45000
8000

K45X50X27

19241/45
45
50
27
34000
79500
8000

K45X53X20

19244/45
45
53
20
38500
66500
8000

K48X54X19

39242/48
48
54
19
30000
60500
7500

K50X55X17ZW

49241/50
50
55
17
21400
46500
7500

K50X55X30

9243/50
50
55
30
38500
96500
7500

K50X58X20

19244/50
50
58
20
35000
61500
7000

K50X58X25

29244/50
50
58
25
43500
80500
7000

K55X61X20

49241/55
55
61
20
41000
11000
6500

K55X63X25

29243/55
55
63
25
49500
99500
6500

K60X65X30

69241/60
60
65
30
42000
115500
6000
Pošaljite nam svoju poruku: